Hi.. If you r visiting this site. You probably already know me… Or hoping you want to know me. 🙂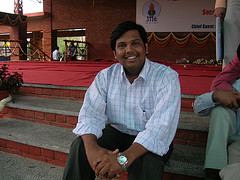 I am a Software engineer by Profession. I work with Oracle India.
Computers have been with me.. Rather i would say it's me sticking around computers for more than 15 years now.
Well who you see in the picture on the left is me.. I am from Vijayawada, a beautiful place off the Coastal Andhra Pradesh, India.
I rarely blog here, Connect to me on Twitter@Swaroop